ObsDatabase
Download V1.5: HERE
Program: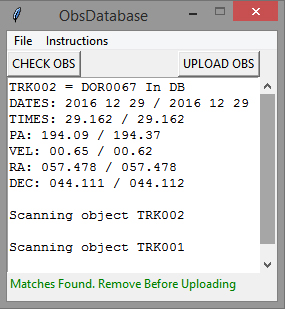 Matched measurements of the same object from two very different stacks. One was 4 stacks of 1x60sec subs, the other was 3 stacks of 10x60sec subs.
This program is meant to help prevent duplicate observations to the MPC by storing observations in a MYSQL database and scanning new observations a user wishes to send against the observations in the database. It is efficient at finding matches between objects that had measurements taken from different images stacks by different users on the same night. It does this by solving the object's PA and VEL. There is one line generated for every set of measurements for each object that has the Name, Date, PA, VEL, Mid RA, and Mid DEC. It then checks new observations against these 1 line formatted obs within a certain error threshold for a match. Give the PA more range for better matching.
Recommended settings to start:
Time Error = .2
PA Error = 4
VEL Error = .2
RA/DEC Error = .2
Please report bugs via the contact form on my site.
Please read the instructions on how to use the program under "Instructions" tab in program.
Enjoy!
---
I offer all applications I produce dirt cheap or free of charge. Please consider a donation :)